Skyscrapers are popping out of almost everywhere in Mumbai as the demand for a home in the financial capital increases. But with tall buildings, elevators have become a necessity in every building, aur agar lift hi fatal ho jaaye toh usko zimmedar kon hai?.
Many lift accidents have occurred in recent years owing to negligence by residents or by the lift contractor. Recently, a 20 year old kid died after a lift crashed in a housing society and a few days back a lift crashed in an ongoing construction project in Thane which killed 7 workers.
Ensuring safety mechanisms are in place and well-maintained is vital to protect residents, particularly children and the elderly who may be more vulnerable.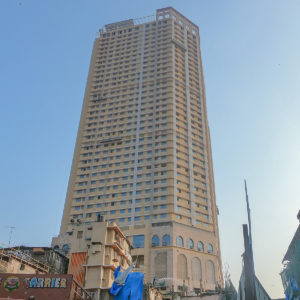 As Bhendi Bazaar, the Bohri mohalla is redeveloping and touching skies, lifts are very important to be maintained. Al Saadah towers which were completed almost 4 years back have 9 lifts in both wings combined. The lifts were installed by the reputed KONE brand. While one would have expected a brand like Kone to have been backed by excellent quality and after-sales support, we were surprisingly approached by residents of Al Saadah that the lifts installed in their building are shaky and worn out with almost all display indicators having gone bad in such a short span of time.
Shamim Lokhandwala, a resident of Al Saada stated, "At Night around 12 AM I was with my Kid in the lift, and I got stuck on the 8th floor where there is no gate even If I tried to open the lift. Due to no network, I was not able to call any family members also. It took more than 1 hour for someone to realize that the lift was stuck and I was able to come out of it."
Another Bashir Shaikh described his experience, "Mein Lift mein upar jaa raha tha aur achanak se lift 28th floor pe ruk gayi. Uske baad lift ek mala neeche aayee aur darwaza toh khula par phir lift call hi nai le raha upar ya niche jaane ke liye."
We interviewed the co-operative housing society members on this development and they also face the same problems but unfortunately, the lift contractor KONE Elevators is not cooperating and fixing the said issues despite having a comprehensive Annual Maintenance Contract. One of the committee members advised that no one should install Kone lifts and said "yeh log fraud hai". He continued "unko koi farak nahi padta. Unhone SBUT walo ko bola hai ke indicator ki life sirf 3 saal ki hai, toh ab Society ko around 40 lakh rupee de ke indicator badal ne padega. Kaun dega itna paisa? Sab ko pata hona chahiye ke Kone aisa karta hai"
Another resident Mohsin Tarvadi complained that, "Abhi toh sirf teen ya chaar saal hue hai aur abhi se aadhe se zyada indicator nahi chal rahein, announcements bandh hogayein, pankhein kharab hai. waise bhi hawa nahi thi lift mein, ab saans nahi le sakte. Aur usmein lift kab jhatka maarein pata nahi."
We were informed that the lift contractor KONE Elevators is under a comprehensive annual maintenance contract for 10 years. They are responsible for fixing the technical and safety issues of the lifts installed in Al Saadah.
Therefore, our BBKC Khabri contacted Mr. Rajesh Bywar, the Director of KONE Elevators India Limited, to verify and understand the issue. Mr. Rajesh refused to comment on this issue.
Toh kya KONE Elevators uske contract ke hisaab sei kaam nahi kar raha aur kyu nahi kar raha? Why is Kone silent on this issue and not taking any action on the responsible person for fixing their lifts' issues?
Isn't it important to fix the lifts and repair it, as the safety of the residents is being compromised? Who will be responsible if any casualty happens due to the lift malfunctioning? Aap log niche comments mein apne khayal bataiye.