Aise sunne mei aaya hai ke Bhendi bazaar ke mohalla mei Cafe aur Art ka gallery aane wala hai. Ji haa! The government has planned to put a cafe and art gallery below the JJ flyover where the space has been encroached by beggers, drug peddlers and migrant workers since many years. It has been observed that they have made this area their living space by hoarding unwanted furnitures and even mattresses to sleep on. Little children turned this place into their play area, hence causing nuisance at the road junction. When cars stop at the traffic signal, beggars rush on the road to beg, slowing down the traffic movement.
This place has been the dirtiest and unorganized space which none tend to look at. Magar jaise kehte hai ke 'behtar kal' aata hi hai. Hence, the Brihanmumbai Municipal Corporation (BMC) have ideated a plan to cleansify and use this open space for a better purpose of removing the encroachers. The estimated cost of the project which has been sanctioned already is ₹13 crore. Of the total amount, ₹6.5 crore has been sanctioned by the District Planning Development Committee (DPDC) by the Guardian Minister for city, Deepak Kesarkar, while the remaining ₹6.5 crore will be given by BMC.
So the idea is to convert the old BEST buses into a cafe and library-like place where people can visit and relax. Another idea of an art gallery where various talents can showcase their art and crafts will be implemented. Three locations where these buses will be are – one at the JJ Signal near Almas Hotel, second at Noor baug masjid, and near Crawford market.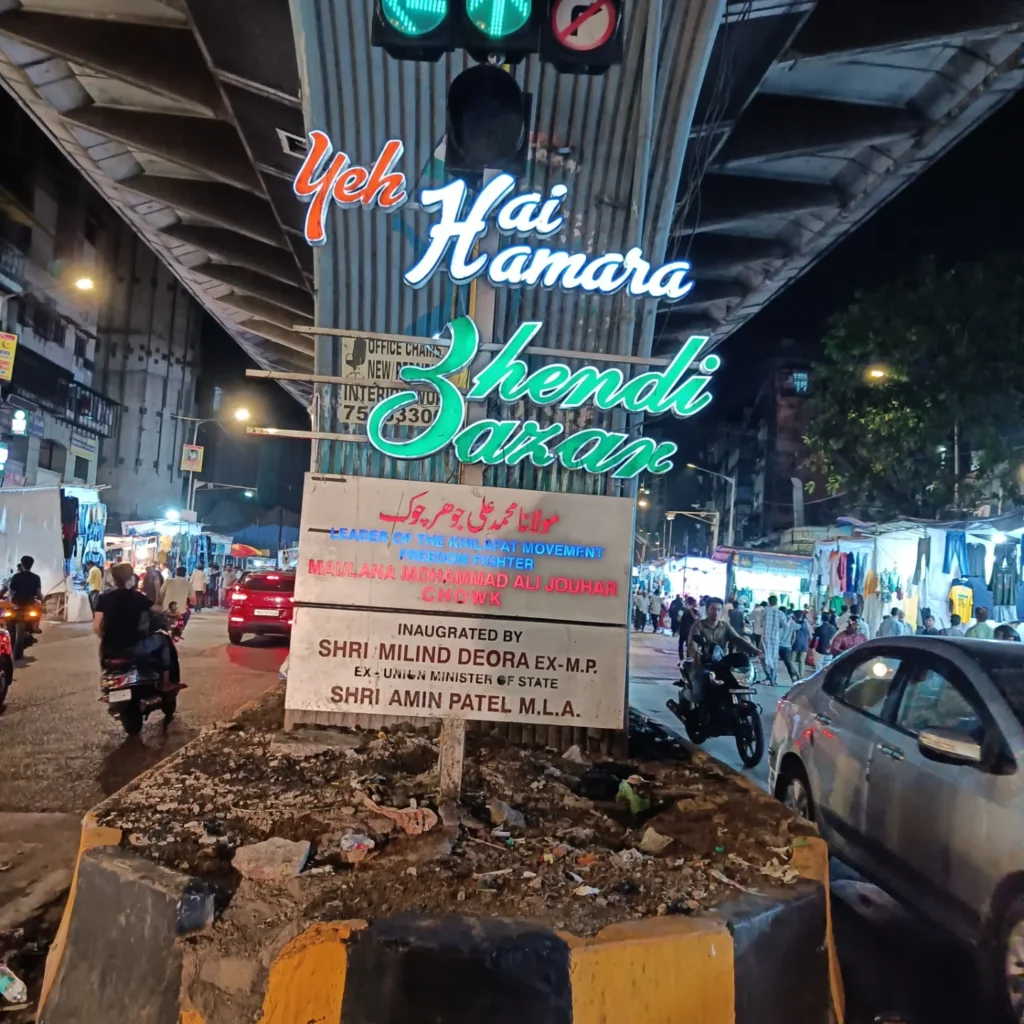 But there is a huge twist to this, as the previous government in 2017 too came up with an idea to beautify and develop the central bays beneath the JJ flyover. Even though it was implemented partially but yet after 6 years, today what did it benefit? After spending so much on this beautification, today the same encroachers or even more encroachers have come back to these bays beneath the JJ flyover. The bigger question is did the government even beautify this space?
Also in 2022, the government announced that BMC will procure multi-utility e-vehicles to wash roads and footpaths. Among multiple areas, it was mentioned that in Bhendi Bazaar too this pilot project would be implemented. Aur aaj ek saal ke baad bhi kuch nahi dekhne ka mila.
One passer by mentioned, "Lagta hi nahi hai ke kuch development huwa tha, jaise pehle the yeh sab log, waise hi hai yeh jaga pe hai. Aur jaise pehle ki halat thi waise hi halat hai abhi bhi. Kya faida hua goverment ka itna zyada kharach kar ke jab kuch maintain hi nahi kar sakte?"
As the saying goes with pros there always is cons. So in an area like Bhendi Bazaar jidar yeh JJ ka signal pe traffic nai sambhali jaati, udhar ek purani bus ko cafe aur library mei convert karke kya faida hoga? Kya public sahi tareeke sei yeh facility ka upyok kar sakegi? What if the facility of relaxing for senior citizens turns into the previous encroachers sleeping and relaxing. Well, all of these is just a matter of time when it will be completed and everything will be known. It is upon the public how they utilize what the goverment provides. At least due to this development, the encroachers will be eliminated from this area which causes disturbance in the area.
Jo aap Bhendi Bazaar ke rehwasi hai ya ke nai bhi hai toh aapka khayaal bataiye niche comments mei aur aap bataiye ke kya yeh apni faida ki baat hai ke nahi hai?