Hello Bazaaris, we have finally transitioned out of the scorching summers and welcomed the downpour of rains. Sab kitna rangeen lagta hai iss mausam mein, mann karta hai ki isse enjoy kare family ke saath ghar baith kar, bhajiye aur chai pi kar, hain na? Humaare mohalle ki sadke, suhaani aur bhari hui lagne lagti hai. The narrow grey streets are brimming with a colourful display of vibrant umbrellas and raincoats.
Baarishon ke saath aate hai alag alag masle, par ek baat bahut achi hoti hai ki the heavy rainfall has restored and sustained the water supply that got depleted during the scorching summers. Iss sheher ke baarish ke bhi do pahaloo hai, despite our lakes surpassing last year's water levels, the heavy rainfall has also inflicted some damage upon our city.
"Mumbai comes to a stop due to waterlogging"; "Rain takes a toll on the new roads and bridges in the city". Aise headlines toh hume baarish ke mausam me roz hi news me padhne milte hai. Ek hafte ke andar hi apna bhendi bazaar ki sadke bhi potholes aur gande paani se bhar jaati hai.
In do mahino me hume traffic disruption, building collapse, dangerous manholes, ye saare mushkilo ka saamna karna padta hai. Iske alava, because of the numerous constructions going around in our mohalla, the streets have been very muddy and waterlogged, making it difficult for the pedestrians to walk. The bikes and cars also have to be careful not to skid on muddy roads to prevent fatal accidents. Isn't it high time that our streets are equipped with an effective flood management system for the proper drainage of water from the roads? Recently, BMC officials inspected the streets of Bhendi Bazaar and quick action was undertaken by filling the potholes to keep the streets safe. But, for how many years will we keep on filling potholes?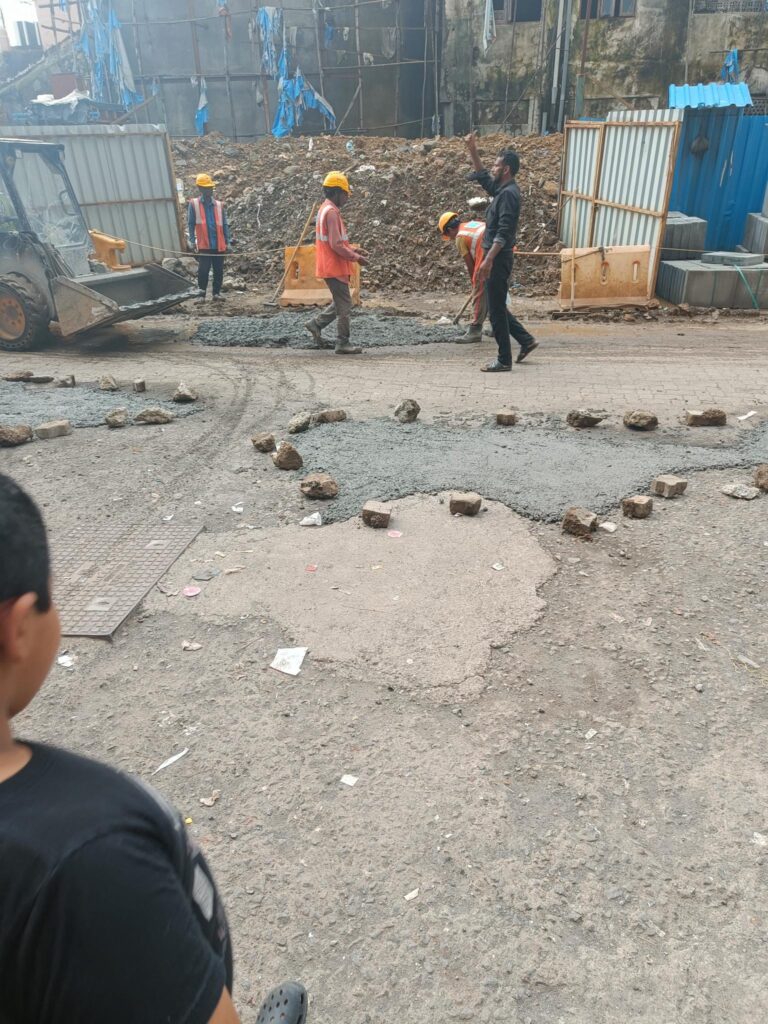 Ghatkopar, Chembur aur Vile Parle mein recently hue dangerous building collapse ke bare me aapne sunna hi hoga. The heavy downpour adds to the risk to these dilapidated and old buildings, making these structures even more unstable. It's scary to think that old buildings could collapse at any moment, endangering the lives of people living and passing by. Mumbai ke bhaari baarish ke bavajood bhi humare Bhendi Bazaar me aise bhi kuch puraane buildings abhi bhi khade hai. Aur joh unmein rehte hai, unke liye dangerous bhi hai.
But surviving all odds in the rains, you cannot help but notice the resilience of the mumbaikars during the monsoons. Bhari baarish aur flooding hone par bhi, the spirit of the people remains unshakeable. People wade through ankle-deep water, balancing umbrellas, and bags, being careful with open manholes and gutters, going about their daily lives with a determined stride. School ki chutti announce hote hi, bache sadko pe chapa chap paani udaate hue nazar aate hai.
Aapka kya kehna hai iss baarish ke baare mein, kuch acche ya bure pal joh aapne guzaarein hain humare Bhendi Bazaar mein, Iss baarish ke season mein? According to you, how is monsoon this season in Bhendi Bazaar.
Share your comments and let us saath mein discuss baarish ka mazza yah masla.
Stay tuned for more interesting topics coming your way soon!