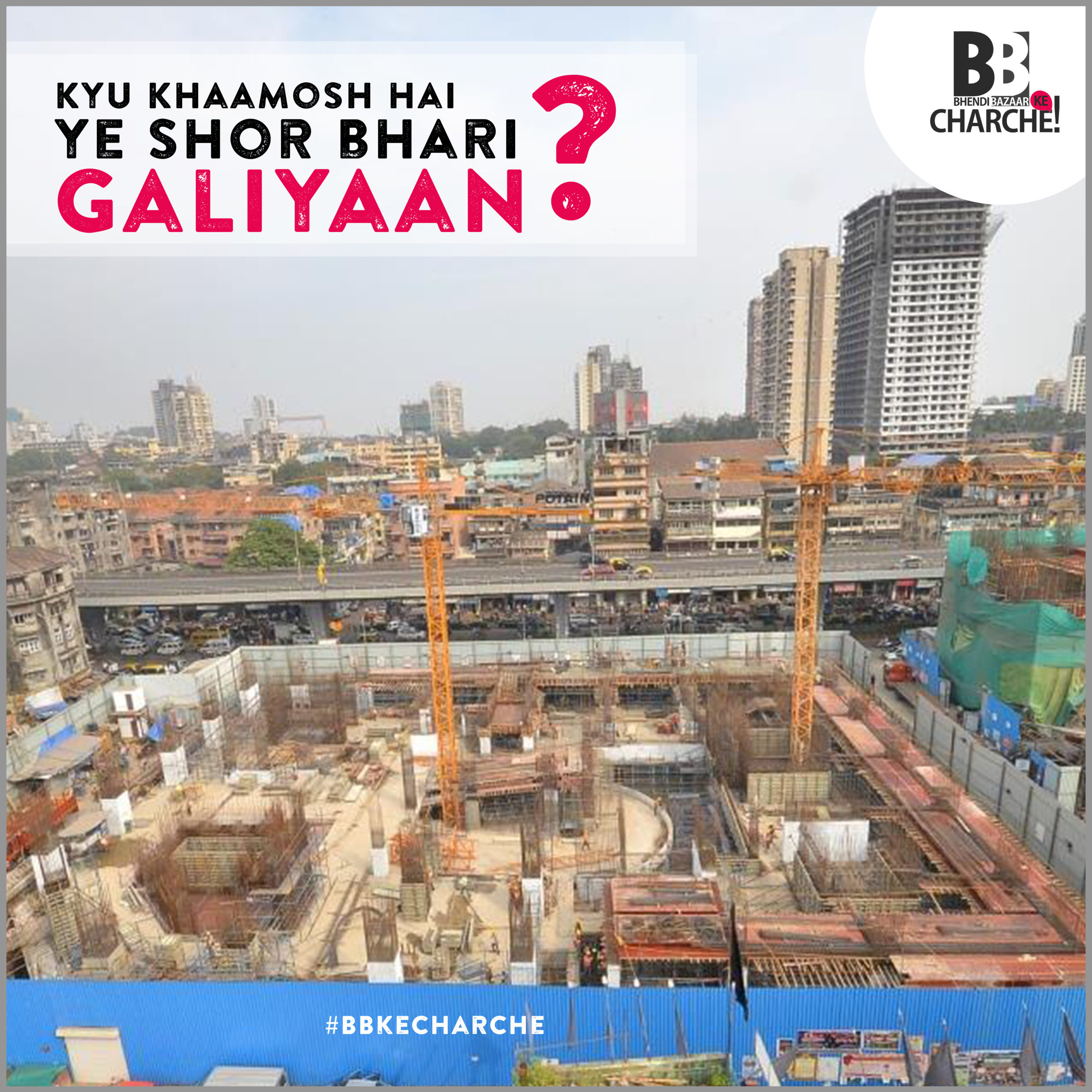 There is a peculiar kind of silence in the prominently abuzz area of Bhendi Bazaar. The ear-deafening bang boom dhud dhud of the ongoing construction work in Bhendi Bazaar has come to an immediate halt. The houses have stopped experiencing earthquake type tremors for the past few days. On one hand, Bhendi Bazaar residents are celebrating the joyous moment of attaining the possession of their new homes while on the other the remaining few are in a mode of panic with the sudden closure of work.
Digging the issue deeper we activated our insider network and to our surprise, this news did spread like wildfire and was in the headlines before we could compute the causes even. Some complaints lodged by locals has resulted in verification of the permissions and approvals required for the certain ongoing piling work in the Bhendi Bazaar redevelopment premises to which the trust was not able to produce the required documents, hence the Mumbai Municipal Corporation has issued a notice for stopping the piling work in cluster 5 and cluster 6. We were startled to learn that since such a long time the work was going on just on the basis of IOD whereas such types of work demand a CC and just IOD is not enough.
Now as you all know us we are the grayscale people who have the tendency to analyze every situation with appropriate pros n cons. This situation particularly has triggered our plethora of emotions on account of a local Mumbaikar. A normal man with a dream of a new home in his eyes has to suffer from such a scenario. Then who is to blame for this? On one hand, we have SBUT who has to obtain some of the other kind of documental and legal clearances on every single step they take to steer ahead this project. Uff these amount of papers must be nearly exceeding the number of families they are intending to provide new homes too! But then abiding by civil laws is certainly important and it makes you a good citizen so the fulfilment of all documentary requirements is a must.
On the other hand, we have our Municipal corporations who makes so many laws which we need to abide by, but sometimes themselves can't abide by a single condition of replying applications on time. A local person or organizations have to be in a queue for like forever long to obtain permissions for negligible stuff. Ultimately what happens is that people lose their cool and start working despite permissions. Of course, we know working against rules is a complete No-No but what gives us a sense of relief is that whatever work was going on was in public interest and with the intention of completing the project soon or so, that's what we hope. Had everyone done their duty honestly, the common man would not be caught in this panicky situation today.

Now what will happen further is a big question for everyone. How long is the procedure to get the work up again – will SBUT be able to speed up the process and get things back to normal? None-the-less there is still a spark of wait in thousands of eyes who are eagerly waiting for their new homes… the homes which are currently facing different sorts of hurdles, yet the wait is intact and someday this wait must end. Discussing this issue with the tea kulhad in our hands, our minds kept saying
Manzil se zara keh do abhi pohcha nahi hoon main,
Mushkilein bohot hai magar thehra nahi hoon main.