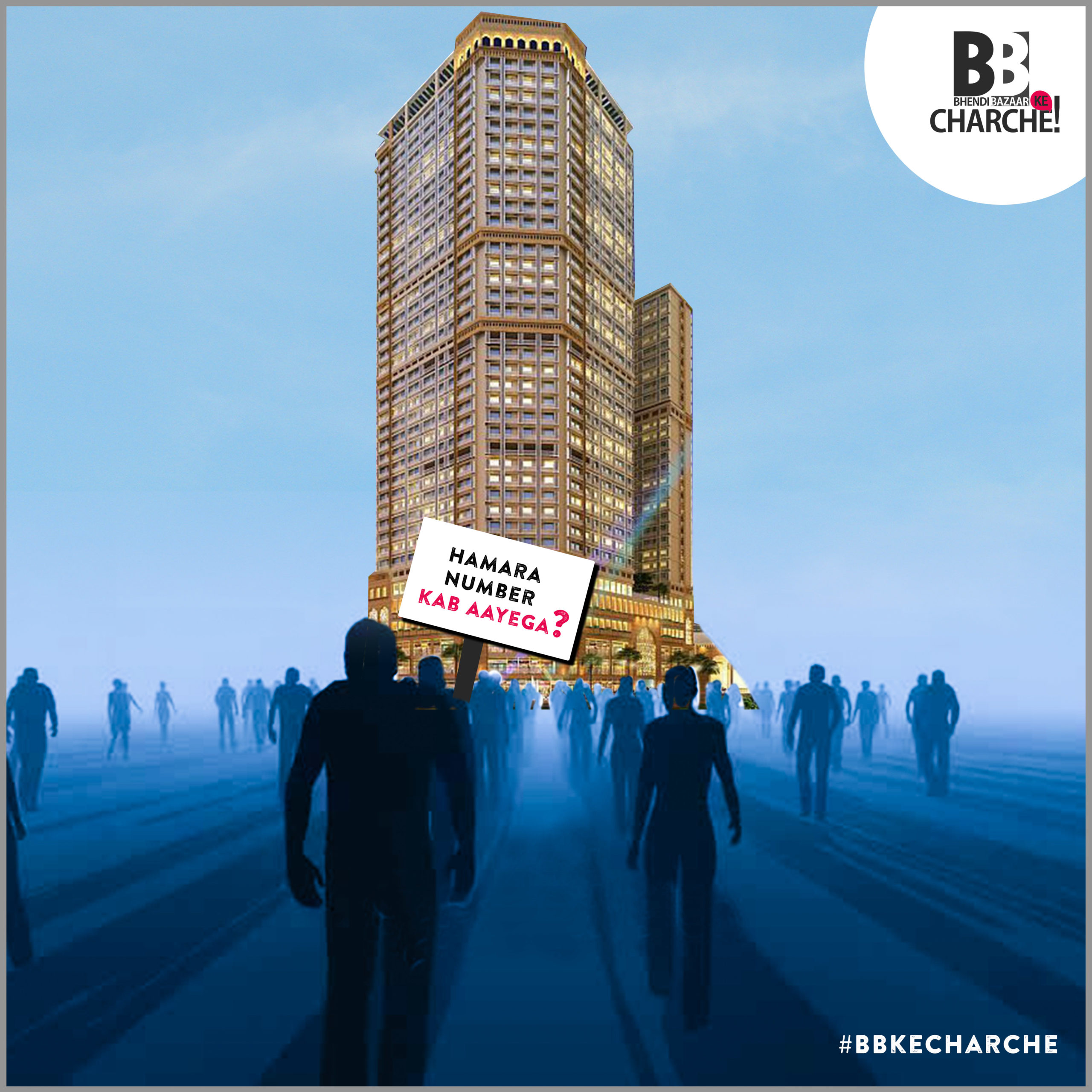 Residences in Al-Sa'adah tower of Bhendi Bazaar redevelopment area are up for possession. This good news was delivered to us some weeks back, but still, we have not received any intimation from the office as to when we should show up for collecting keys.
Being a Mumbaikar, one art we have mastered certainly is the art of patience while being in the queue. From Local train tickets to hiring taxis and auto-rickshaws, from eating street side food to dining at a fine dining restaurant, from filling school admission forms to securing seats at college, and in nasty chawls even using the washrooms – all of these requires us to be in the queue. Similar is what we are facing at the moment with our dream homes. Kya batae aapko ki hamara number aa hi nahi raha!! Bhook lagi hai zoro se … saamne parose gae hai dilkash rasgulle aur keh diya k bhai khaa nahi sakte.. hai to aapke liye hi but aap khaa nahi sakte!!! Similar is our situation. The cherry on top is our insider news which says that some 20-25 families have been already handed over the possession of their new homes. Hum kyu reh gae bhai???
This time when we gathered for our regular cuppa tea this wait issue was our grave concern. This said, there are many more important issues which are hitting our subconscious hard and we need to frame these questions to the authorities as soon as possible. Here are a few
What about the AMC amount? Is the maintenance on us or is SBUT going to take responsibility for a certain few years.
What would be the conditions of using common areas and podium space? Due to partial occupancy status will we be allowed to or not?
How long will be the queue for elevators? How much will be the waiting time?
Will the garbage chutes be functional from now or it will take time?
How will the car parking system work?
Once up for interiors, will our flats be permitted to make any civil changes in regards to the bathroom and kitchen positioning?
Will the ongoing construction in vicinity affect the daily lives of Al-Sa'adah residents?
All these and many more questions must be running through your head too and we will try our level best to achieve answers for all these concerns through our insider network. Keep watching this space to know more about these issues because we will surely write about them in future as promised. Till then just hope to get that much-awaited call for keys hand over soon.