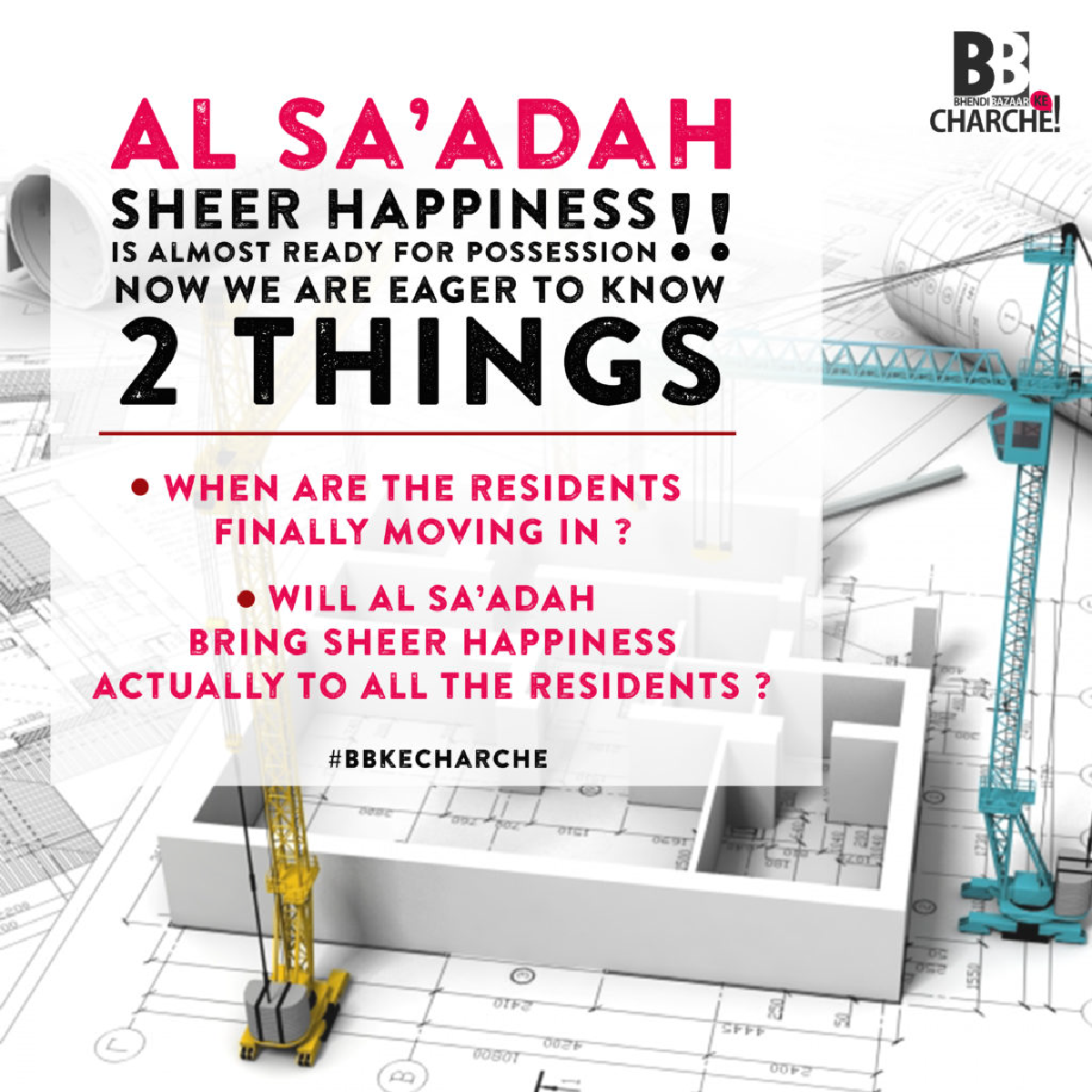 Hum baat kar rahe hai Al-Saʿādah Bhendi Bazaar redevelopment me bane gaye pehle tower ke possession ki. The team Charche is back after observing "the silent Diwali." Holding the tea kulhad in our hands, the topic we were discussing today was a true nostalgia. Chaliye aap ko bhi le jaate hai nostalgia wali duniya me. So we went back to times when we were in mid-teens and our dreams soaring high, we used to aim for this one – "Abroad ki Education aur South Bombay me aalishaan ghar" and then one of us would laugh and mock and say "South Bombay me ghar to theek hai but aalishaan ?? Bhai apne Bhendi Bazaar me??" and then all of us would laugh together because our vicinity was something we all knew was difficult to transform.
Then we fast-forwarded down the memory lane and flashed in front of our eyes the day when someone came to us with the news that Bhendi Bazaar will be undergoing redevelopment under the vision of His Holiness. We were enthralled to know someone even had the courage to put hands in such a tough task!!? Then in no time came up the SBUT office and issues like transit camp and demolition were being discussed and then the first building got knocked to the ground! We exchanged delightful glances with each other that "our mid-teen dreams were taking shape!" – This was some roughly 8 years back.
Sitting here today we are feeling a wave of bliss. We can see our dream standing tall in front of our eyes and it even has a beautiful name –Al Sa'adah meaning sheer happiness. This is where our aalishaan ghar is going to be. Yet that sheer happiness inside us is a bit incomplete because since almost a year SBUT is committing to give us the possession of our homes on a certain date. We feel our bellies bloating with happiness but as soon as the day comes they announce extension of dates and we have to sit back with maayoosi on our faces. The last they promised to hand us our homes was in June 2019 and its almost December 2019 and we are still waiting. We for sure know that we are not entering our new homes unless in 2020.
The tea inside our kulhads is almost finish indicating our time to disperse and we bid goodbye to each other with the same mayoos faces and thinking inside that could someone explain these people the meaning of deadlines and how important it is to stick to the deadlines!? Kya SBUT hamare obsession ko samajh sakti hai? Will they speed up the process!??