Everyone dreams of living in Mumbai jaise halchal bhare hue shehar mein but this shehar also has its own share of problems. One such problem is something that affects not only the local authorities but also the residents and businesses in this area are getting affected by illegal hawkers or as we call them feri walas or lari walas in Mumbai. They are as old as the city itself and it's no secret that the authorities have been struggling to tackle this issue for years now.
While some may argue that these hawkers adds vibrancy to the city's streets, it also poses significant challenges. The rise of illegal hawking has been a great inconvenience for all of us bazaaris too. These unregulated businesses can be found nearly everywhere in Bhendi Bazaar, selling everything from clothing to accessories to food and electronics.
The already narrow lanes are packed with bheed bhaad wale footpaths. They are further narrowed because of the encroaching stalls, leaving pedestrians with limited space to navigate. Bas itna hi nahi, it hurts business sales because unlicensed hawkers put up their makeshift stalls right in front of the stores that have permits.
Aise illegal hawking ke vajah se Bhendi Bazaar me traffic jam ka bhi bahot masla hote rehta hai. Na chalne ki jagah hoti hai aur na hi gaadi chalane ki. BMC has made tireless efforts to curb this problem with raids and crackdowns that periodically take place, resulting in confiscated goods and arrests.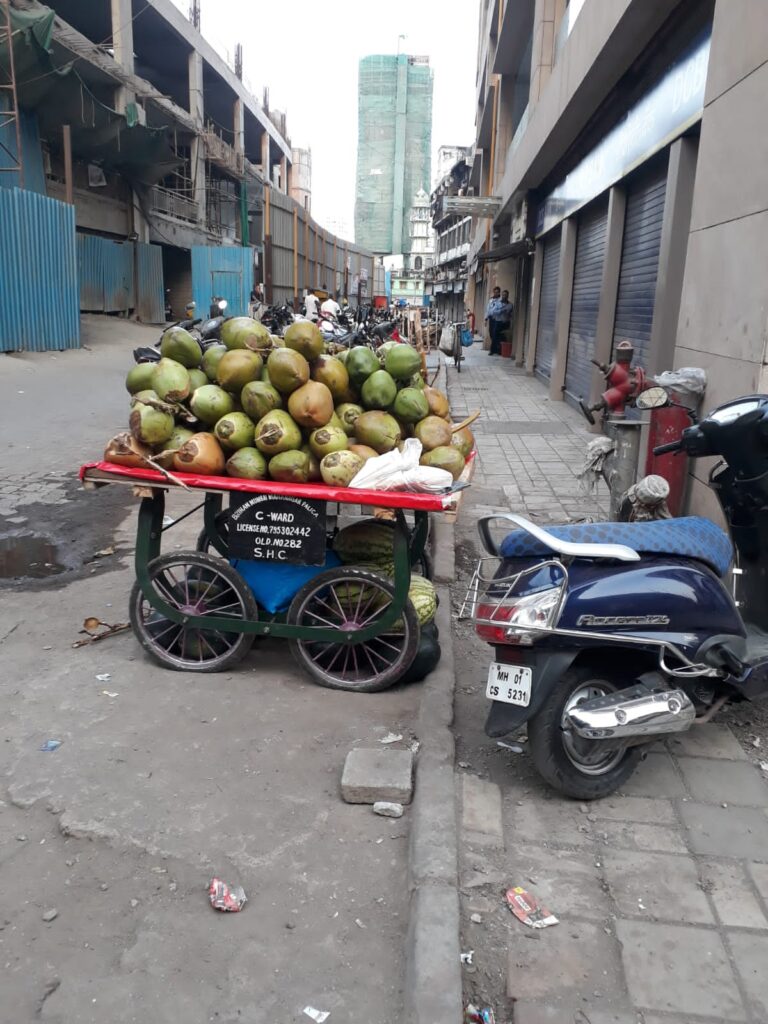 Recently, City Guardian Minister Deepak Kesarkar urged BMC to crack down on illegal hawkers while also designating hawking zones for individuals with roadside business licenses. He visited a few areas in Mumbai like Colaba, Cuffe Parade and CST. Unn me se voh humare apne mohalle, Bhendi Bazaar me bhi aaye the.
Many residents complained about unlawful hawkers and criminals in our mohalla. The BMC took steps to remove the illegal hawkers from our Bhendi Bazaar's null bazaar side. It has given us a lot of comfort because we got ample space for walking and smooth flow of traffic. Yet some complain that even if the BMC removes these illegal hawkers, they still come back on their same spots the next day, and only wrap up when the BMC comes.
Ab yehi unn feri walon ki soche toh, we also need to consider that for them, hawking is a means of survival, a way to put food on the table and provide for their families. The lack of employment opportunities and the high cost of living makes illegal hawking an appealing option for them.
Par iss masle ka hal kya ho sakta hai? To address this issue effectively, the authorities must improve the licensing process, and create designated areas for street vending. It can help regulate the trade while preserving the vibrancy it brings to the city. Ultimately, the battle against illegal hawking in Mumbai is a continuous one.
As we wrap up today's talk, aapko kya lagta hai? Should street hawking be completely banned in a bustling city like Mumbai? Tell us your opinions in the comments. And see you soon with more interesting charche of Bhendi Bazaar.