Welcome back Bazaaris! We last updated you about a rather hush-hush meeting at Bhendi Bazaar, which we assumed indicated the preparations for construction. Your BB-khabri is back with some new gupshup from the bazaar.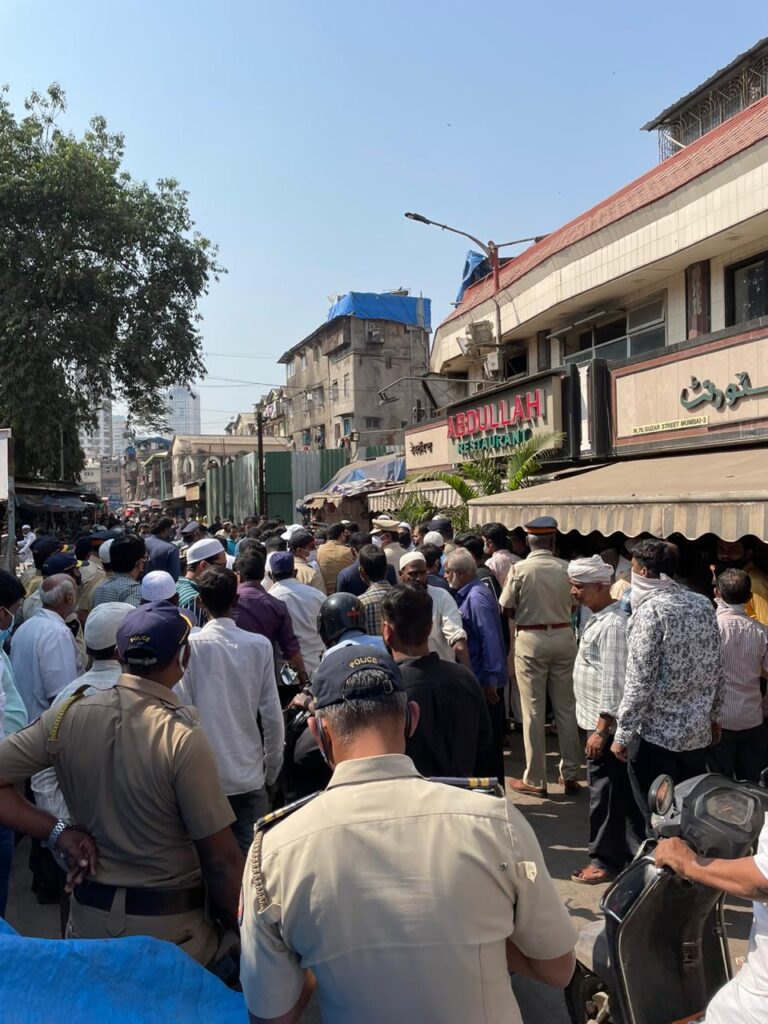 This past Saturday, we spotted some khaki at Bhendi Bazaar – a few BMC officials visiting and interacting with the locals around the area. Our trusted BB-insider got their hands on a few pictures of them eyeing the roadside vendors in the bazaar. A friendly neighbourhood chaiwala shared his own thoughts on the matter. Bhendi Bazaar has seen a recent influx of illegal hawkers and encroachers that have taken over sidewalks all over the place. The locals speculate that the BMC officials might have been there to warn them about clearing out those illegally occupied spaces, or they would do it themselves the next time they dropped by.
Another possible explanation is the inspection of old tenants. Several of the older buildings in Bhendi Bazaar are yet to be cleared out, with some tenants not agreeing to vacate their houses. The BMC and police officials could have possibly been there to warn them about potential forceful evictions, in the event that they don't voluntarily do so.
And lastly, some say that the presence of officials like the Additional Municipal Commissioner, Deputy Municipal Commissioner, Ward Officers, and senior police officers could point towards the start of construction for Phase-2 of redevelopment.
Whatever may be the reason, the official visits this weekend definitely sparked a lot of interest among locals, who are now quite excited to know the real reason behind it. As always, your BB-khabri will stay on task, and continue to find out more to update you on the situation. In case you spot something, do share the khabar with us, too. Stay tuned for more!