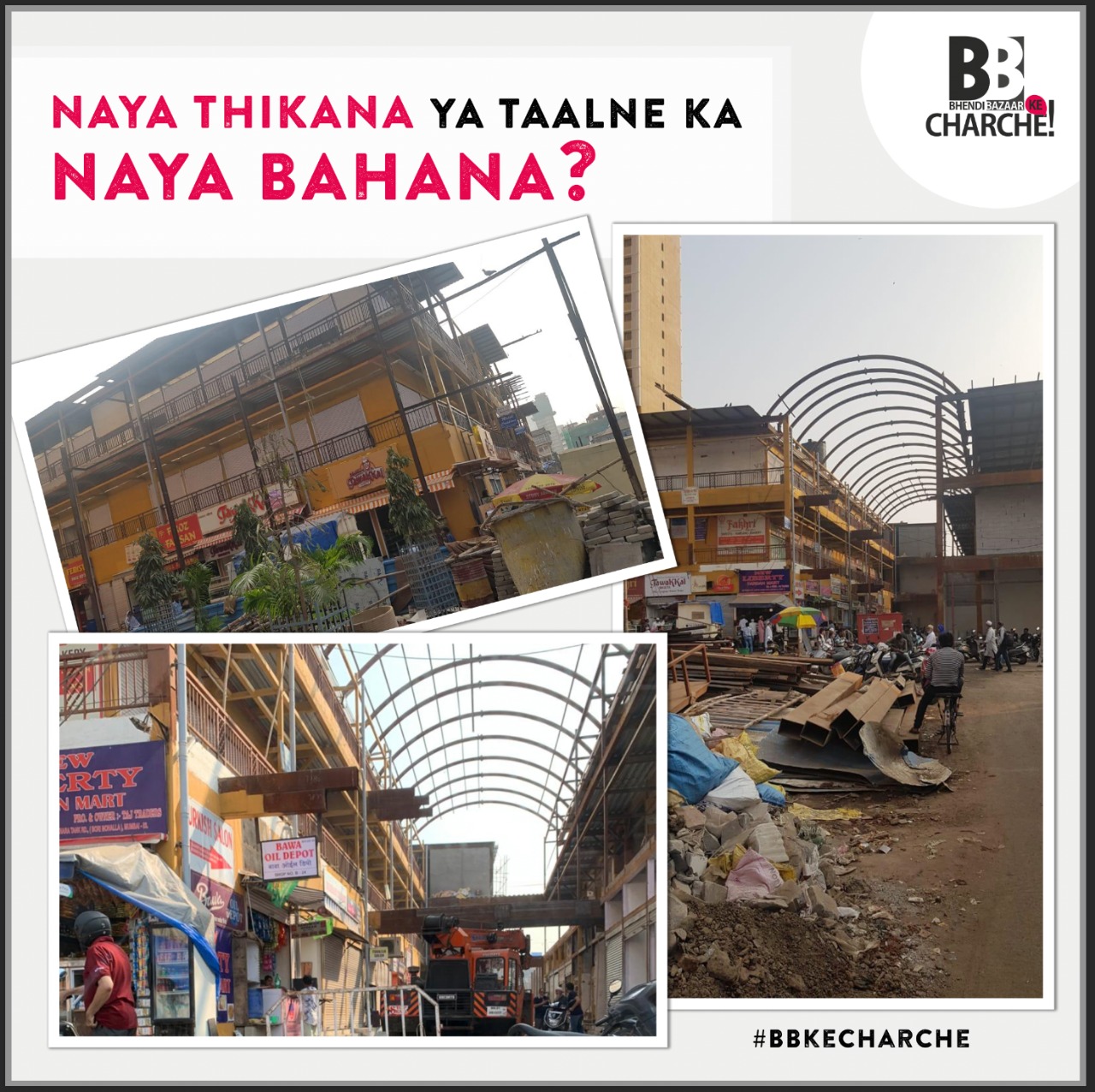 Alas Saturday is here. Sun of hopes beaming high over our head, team Bhendi Bazaar ke charche is out in the search of those shops whom they were missing dearly. As promised, with Mithai ka dabba in our hands shouting in our hearts Kaha Ho Tum??….
And lo! To our surprise, our feet were redirected again to the old bylanes of Bhendi Bazaar. Confusion wires sparking in our mind, it was getting obscure to decipher hum wapas yahi kyu aa rahe hai!? And then one of us pointed "look! That's our favourite Tawakkal Sweets." And that's when it clicked to all of us – hum jinhe dhoondh rahe hai wo zyada door nahi, bas hai yahi kahi hamare hi aas paas – inconveniently undergoing the relocation saga of every redevelopment project.
The structure looked so temporal, with a good amount of work pending. Constant construction happening in the vicinity was bothering and also the roads leading to this place were not up to the mark. Shopkeepers hustling hard to retain and maintain their respective clientele simultaneously were also aggravated with lack of amenities to let a business work in a smooth flow.
Cherry on the top – even the tenants have not been handed over the possession of Al –Saadah as yet, basically making these shops the only operational units in the entire Bhendi Bazaar redevelopment premises. Shops operating with no one in the vicinity to shop from! Quiet ironical and derisive!! Also imposing the indefinite nature of time frame these shops will have to face in this type of condition. What if even their new shop possession takes such long time? Won't it be horrendous for the shops to operate this way?
With this heated self-talk we headed towards the shop and were startled to see many more shops. In fact, it was a shopping arcade in front of our eyes. Most of the shops have been relocated to this arcade standing in the mid of Bhendi Bazaar redevelopment area.This surely will benefit them to prevent clientele loss. Though vicinity me rehta koi nahi but at least people can drop by and search for them in this defined space. Relocating themselves to any other area of SoBo, however niche it may be, wouldn't have made them feel in comfort zone as their own nostalgic, business empowering, a gold mine of Bhendi Bazaar would make them feel. Oh, what a strategic move by Bhendi Bazaar redevelopment authorities! Aaj ki iss khoj bhari journey ne khuda qasam puraane Bhendi Bazaar ka naqsha yaad dila daya. Though the location is new but every shopkeeper still follows the same old pattern of occupying the road space to display their own goods. Phew! It was such a task making space to steer on the roads. Chaliye janaab dekhte hai kya hoga aane wale behtar Bhendi Bazaar ka naya naqsha!! Even you all let us know what you think about this. Drop your comments in the comment box below.