Sab Khairiyat Bazaaris? After the last special report, we now want to bring you closer to a new charcha that has been troubling a lot of us – Pappu Juicewala. Last weekend I was on my usual grocery run around Al Sa'adah. While us Bhendi Bazaar residents are not new to the traffic and the chaos it brings along, the commotion on that day was unusual. Not only was there no place to park, but it was also difficult to reach the stores at Al Sa'adah.
A stroll around the Bohra mohallah and conversations with locals over a few cups of chai revealed that the main cause for concern was the illegal encroachment by the stall of Pappu Juicewala who is currently blocking half of the road making it difficult for vehicles to turn in from the Ibrahim Rehamatullah Road. Several vehicles parked adjacent to the construction site were also blocking half of the exit to Mohammad Ali road; leaving hardly any place to move in and out of the area.
Speaking on this issue, a local shop owner said, "Pappu Juicewala key stall ki wajah se pura road jam hai. Ek side pe sab tedha-medha parking hai, sabne bikes pavement pe park karke chale jaa rahe hai, aur dusre side pe log wrong way main chala rahe. Customers shop pe nahi aa pa rahe. Bolke bhi koi sunta nahi hain, pata nahin kya karen. Police aur BMC kuch nahi kar rahein hai.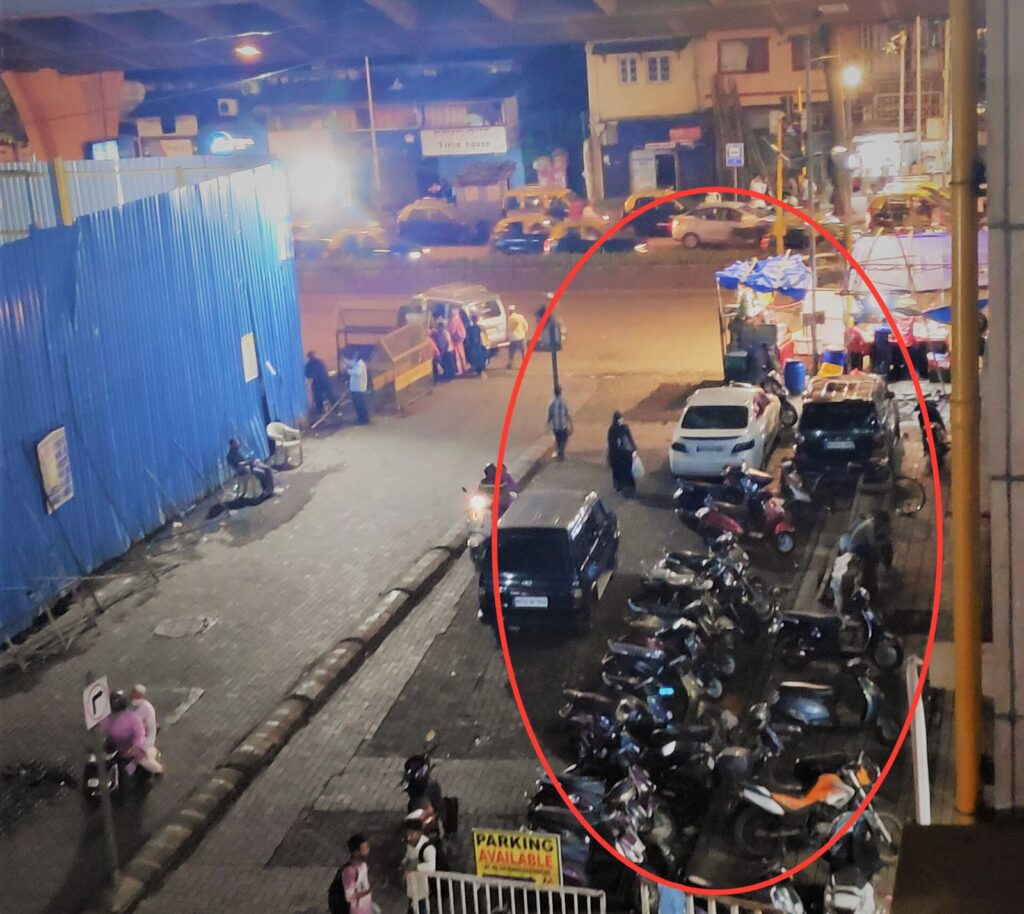 On inquiring with the security guard outside, he responded, "Kitni baar toh park kiya hua gaadi BMC utha ke leke bhi gaye, fine bhi lagaya magar fir se park kar dete hai yeh log. 1500rs ka fine bharne se behtar hai 300rs mein ander park kar le. BMC ka gaadi aata hai toh stall wala bhi sab bhag jaata hai aur BMC jaane ke baad wapas aa jaatey hai.
From what we understand, this issue of illegal encroachment isn't just with the juicewala. The area has been cramped with various other illegal hawkers doing the same thing. This, of course, is causing a lot of problems to the shop owners and residents of the area and we are soon hoping that the civic authorities will take notice and be able to help with this concern. Wide roads are promised by the Trust developing the area but controlling illegal hawkers and parking should be the priority. Pata nahi wide aur uncongested roads ka sapna kab pura hoga.
Meanwhile Bazaaris, if you are in the area, please drive and park your vehicles responsibly. If you notice any illegal parking or encroachment in the Bohri mohallah, do send us the photos and we will try to highlight the issue until proper action is taken by authorities. Send us details on bbkecharche@gmail.com.